In this post, I'll share my pick for the best Disney Moderate resort along with lots of information, details, and photos to help you plan your vacation.
The five Disney Moderate Resorts are some of the most popular hotels at Walt Disney World because they offer some nice amenities at a "moderate" price tag (at least for Disney).
While I like all of the Moderate resorts, each resort has pros and cons that you need to consider before you decide where to stay!
Disney Moderate Resorts Ranked
I think the Moderate resorts are the hardest to rank of any Disney resort category.
Here is my ranking from best to worst, based on my experiences and input from The Budget Mouse Facebook group:
Caribbean Beach
Coronado Springs
Port Orleans French Quarter
Port Orleans Riverside
The Cabins at Fort Wilderness
These rankings on based on the overall quality of experience staying at these resorts which is impacted by the size, dining, rooms, pools, and transportation options at the resort.
On to a detailed description of each resort and explanation for my rankings.
Best Disney Moderate Resorts: Caribbean Beach Resort
There was a time (not many years ago) when Disney's Caribbean Beach Resort would have been at the bottom of my list of the best Disney Moderate resorts.
But recent improvements have included a new check-in desk, new restaurants, and better transportation options that include a Disney Skyliner stop. These changes have brought Caribbean Beach closer to the top of the pack for me.
You can check out my detailed review of Caribbean Beach here so I'll just hit some highlights in this post.
Caribbean Beach was the first Disney Moderate resort and opened in 1988. It is huge – over 200 acres – and is actually the largest Disney resort (aside from Fort Wilderness campground).
It is made up of five villages situated around Barefoot Bay. The sprawling size of Caribbean Beach is the biggest drawback for me. It can be quite a long walk to get to many of the amenities from some rooms.
For this reason, a good room request is essential when staying here.
The check-in desk is now centrally located in Old Port Royale. This makes for a smooth arrival and check-in.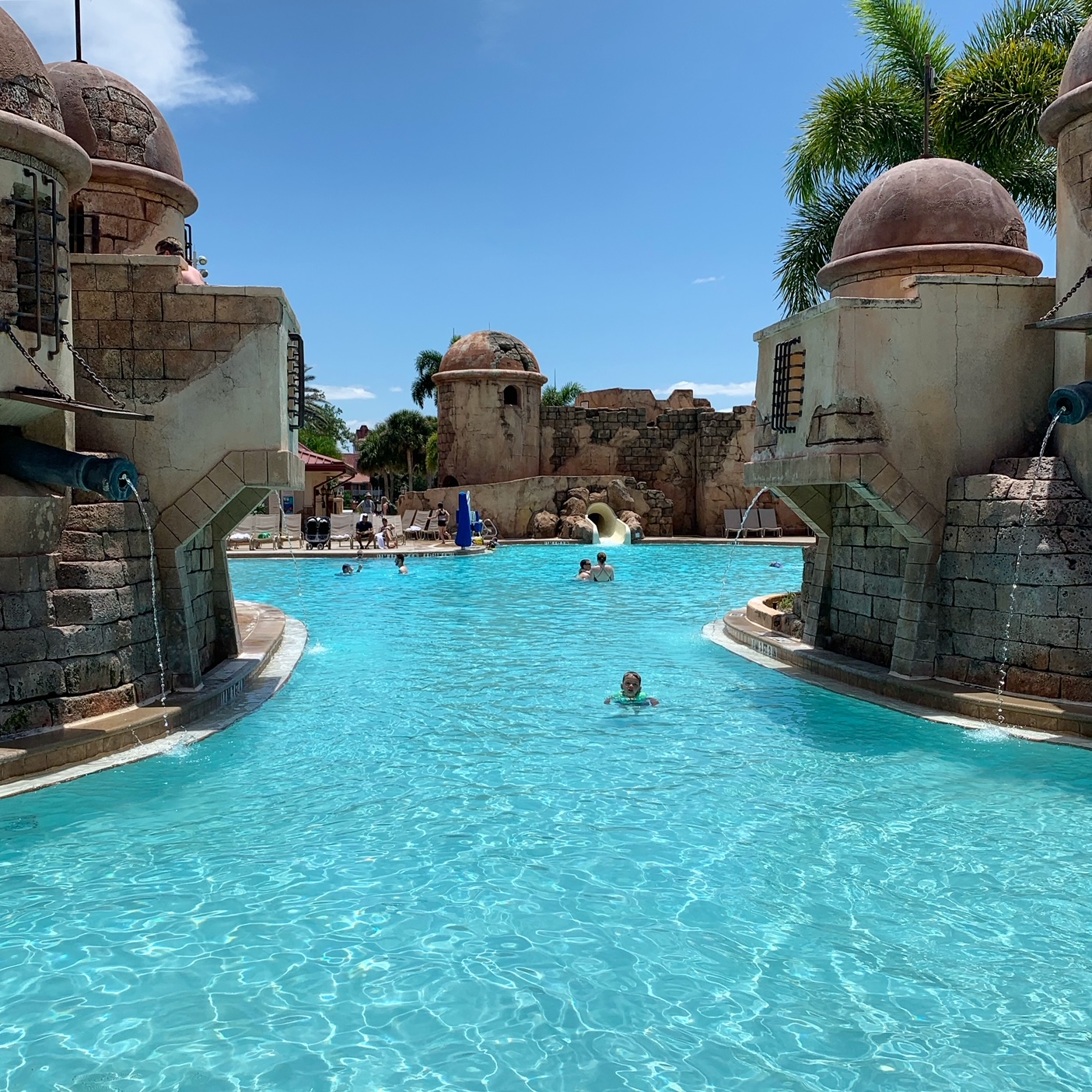 The pool complex is one of my favorites on Disney property. It is themed like a pirates' fort and has lots of fun places to explore and pretend you are a pirate.
It has the only zero-entry pool at a Moderate resort, plus two water slides, a hot tub, and a cool kid's water play area.
There are also four leisure pools found in other villages around the resort, so you can opt for a closer pool if you'd like.
Close to the pool, you'll find the Banana Cabana bar and Sebastian's Bistro, the new table service restaurant. I had an excellent meal here and think it is the best table service restaurant at any Moderate resort.
Read about Sebastian's Bistro and all of the new dining at Caribbean Beach in this post.
The dining scene at Caribbean Beach used to be a negative of the resort, but with Sebastian's Bistro, a new food court, and a new small quick-service dining location in Trinidad South, dining here is now tolerable and sometimes great.
Most rooms at Caribbean Beach have two queen beds and some even have an additional pull-down single Murphy bed. These rooms that sleep five don't cost anything extra and are an excellent option when you want a third bed for child.
I also really like the sliding wooden doors that separate the bathroom area from the rest of the room.
We were able to put a Pack n Play in here essentially making a small room where a little one could nap or go to bed early while life carried on in the rest of the room. It was invaluable when traveling with little ones.
The Disney Skyliner opened in September 2019 and includes a stop at Caribbean Beach (as well as a stop at neighboring Riveria Resort which opens in December 2019).
The Skyliner stop for Caribbean Beach goes directly to Hollywood Studios so it's an easy way to get to Star Wars land (check out my Galaxy's Edge tips here).
The stop at Riviera will go straight to Epcot. These convenient ways to get to two parks really improve the transportation scene at Caribbean Beach.
You'll have to take a bus to the other parks which involve riding around the resort to some of the six total bus stops. This can add 15 minutes to your travel time which is a downside for me.
In summary, here are the pros and cons of Disney's Caribbean Beach Resort:
PROS
Rooms that sleep five
Awesome pool complex
Improved dining scene
Skyliner transportation to Epcot & Hollywood Studios
More affordable than other Moderates
CONS
Long walk from some rooms to amenities
Slow transportation via bus
I love the laid-back vibe at Caribbean Beach and have enjoyed it every time I have stayed there.
As I've already mentioned, I wasn't able to pick a clear third or fourth place because the next two resorts are very different (with different pros and cons).
Disney Moderate Resorts: Coronado Springs
Coronado Springs has really changed over the course of the past year and I really enjoyed a short stay there last month.
It definitely deserves consideration now whereas I would not have recommended it a few years ago.
Coronado Springs is the only Moderate convention center hotel. It has a slightly more business vibe than the other resorts, but also has some amenities that other resorts are lacking (thanks to meeting the demands of conventioneers).
Coronado Springs consists of four sections: Gran Destino Tower, Casitas, Ranchos, and Cabanas.
It is a huge resort and some of the rooms can be a very long walk from the check-in building and food court.
The theming is a blend of Spanish, Mexican, and Southwest American cultures.
The biggest change for Coronado Springs is the Gran Destino Tower, which opened in July 2019.
It now houses the check-in desk for the whole resort in an upscale setting (a huge improvement over the previous lobby).
Gran Destino has gorgeous (though pricey) new rooms plus a cafe/lounge and rooftop tapas restaurant (Toledo) with another lounge. You can check out the menu for Toledo here.
Dining has definitely become a strong point of Coronado Springs. It has an impressive six restaurants and four bars. Here are your options:
El Mercado de Coronado (pictured above) – quick service food court (breakfast, lunch, and dinner)
Three Bridges Bar & Grill – sandwiches and small plates (dinner only)
Toledo – tapas, steaks, and seafood (dinner only)
Maya Grill – traditional Mexican (dinner only)
Rix Sports Bar & Grill – burgers, salads, and more (breakfast, lunch, and dinner)
Siestas Cantina – poolside quick service restaurant
However, be warned that food here is MUCH more expensive than at other Disney World Moderate resorts.
This is because it caters to the convention crowd who often have a "per diem" budget for food.
You certainly won't go hungry (or thirsty) with the many options that include the beautiful Barcelona Lounge on the ground floor of Gran Destino Tower.
Coronado Springs has four total pools which include the feature pool (The Dig Site) and three leisure pools. The pool pictured above is in the Casitas section.
The Dig Site pool is fun, but lacks shade and isn't too interesting as far as pools go. It does have a water slide, large hot tub, and a playground.
There is no water play area for the little ones here, which isn't surprising since it is the convention hotel.
The rooms at Coronado Springs recently got refurbished with new hardwood floors and a large desk area instead of a table with two chairs.
This set-up might provide a challenge if you want to eat in your room at any point.
The bathrooms are separated from the main area by sliding wooden doors. The bathroom area has two sinks and many rooms now just have a shower.
I've read that some rooms still have baths so be sure to request one if that is important to you.
Coronado Springs is the only Disney Moderate Resort that has a fitness center (La Vida Health Club). Previously there was a spa and salon at this location, but they haven't reopened after COVID.
There is a second smaller fitness center right off the Gran Destino lobby behind the elevators.
So if you are looking for any of these amenities this could be a reason to stay here as opposed to the other Moderates.
Price and availability are two positive aspects of a stay at Coronado Springs. Since it is such a huge resort (over 2,500 rooms!) there is often availability here when other resorts are booked.
And it is almost always included in the best discounts from Disney. Rack rates start at $215, but it is common to save 15-20% off of rack rates. Click here for the current Disney World discounts!
I have even snagged a preferred room here on Hotwire for only $120 per night – read all about how to find Disney resorts on Hotwire here.
In general, Coronado Springs will be the most affordable of the moderate resorts for your room cost, but most expensive for your food costs.
Last, transportation is a drawback at Coronado Springs. There is only bus service here, while the other moderates now all offer some alternative form of transportation such as boats or the Skyliner.
And since there are four bus stops around the resort, it will add about 10 minutes to your ride each way.
In summary, here are the pros and cons of Disney's Coronado Springs Resort:
PROS
Lots of dining options
Most affordable rooms of any Moderate
Lots of availability
Offers fitness centers
CONS
VERY expensive food
Spread out with potential long walks to amenities
Longer bus rides to the parks
Bus only transportation
Rooms designed for business travelers more than families
Port Orleans French Quarter
Disney's Port Orleans French Quarter is considered by many to be the best Disney Moderate resort.
What sets it apart from the other Moderates is its size – it is significantly smaller than the other resorts. In fact, it is the smallest of any Disney World resort!
This smaller size means you are never far from amenities and transportation – a common problem with the other Disney Moderate resorts.
The lovely grounds and theming is another reason French Quarter stands out. You'll get a Disneyfied version of New Orleans – with clean and family-friendly streets!
But seriously, Port Orleans French Quarter is a beautiful resort, and being close to the main building and bus stop is incredibly nice.
Transportation is another pro of staying here. At the other Moderate resorts, you'll have to ride the bus around the resort to multiple stops before heading to the parks.
But you'll often get direct bus service from French Quarter to the parks.
You will always get dedicated bus service to and from Magic Kingdom, meaning reduced travel time to the most popular park. In peak times you may also get dedicated service to the other parks. But at off-peak times buses usually visit the many stops at Port Orleans Riverside before heading to the parks.
There is also a boat stop at French Quarter that provides direct service to Disney Springs. This is a HUGE plus if you want to go there – buses are notoriously slow to get to/from Disney Springs.
French Quarter has a fun pool complex with a large feature pool. There is a water slide and a hot tub close by.
You can actually also use the pools at Riverside since they are sister resorts (this policy was confirmed with Disney on my last stay).
There is a kiddie water playground next to the feature pool as well. These are popping up at many of the Deluxe and Moderate resorts and are a wonderful addition for families with young kids.
The dining at French Quarter consists of Sassagoula Floatworks Food Factory, a quick service location in the same building as the check-in desks.
It serves loosely New Orleans inspired food that in my experience is a cut above the offerings at other food courts. You can check out the menu here.
There is also the Scat Cat's Club and Cafe (located next to the food court) which serves up fresh Mickey beignets all day long. Beignets are a big pull of this resort for me (my stomach clearly drives my decisions making).
You can get small bites and drinks here in the evening as well.
One drawback to French Quarter compared to the other Disney Moderate resorts is that it is the only resort without a table service dining option.
However, you can walk over to Boatwrights (the table service restaurant at Port Orleans Riverside) or take a quick boat ride to Disney Springs and be within reach of many excellent table service restaurants. So it doesn't bother me much.
Most rooms at French Quarter have two queen beds (there are some rooms with one king bed) and were refurbished in 2018. They have hardwood floors, a large flat screen TV, drawers, a Keurig coffee machine, mini-fridge, and table with two chairs.
French Quarter rooms still have a curtain separating the bathroom area from the rest of the room, while a few Moderates now have heavy sliding doors.
There are two sinks in the bathroom area which is nice when trying to get ready in the morning.
The biggest drawback to Port Orleans French Quarter is the cost. It is regularly excluded from Disney discounts due to the fact that there is a great deal of demand for stays here.
With the rack rate starting at $219 (plus tax) and no discounts in sight, a stay here is very expensive. It might be worth it to you for the atmosphere and great transportation, though.
To summarize, here are the pros and cons of Port Orleans French Quarter:
PROS
Small resort so you're never far from anything
Often dedicated bus service to the parks
Disney Springs is a quick boat ride away
Lovely theming and grounds
CONS
Expensive compared to other moderates
No table service restaurant
Disney's Port Orleans Riverside Resort
I'll start with Port Orleans Riverside, the sister resort of Port Orleans French Quarter.
Riverside is themed to rural Louisiana of the past century. It has a beautiful lobby and check-in area.
There are two distinct areas at Riverside – Alligator Bayou and Magnolia Bend (referred to as "the mansions").
The rooms is Alligator Bayou have a rustic look and sleep up to five with a pull-down single Murphy bed. This is a great option when you want another bed for a little one.
Some of these rooms can be quite far from the main building, so I suggest either booking a preferred room or submitting a room request to limit your walking.
I think the rooms in the mansion section (Magnolia Bend) are really beautiful. I love the materials and textures in the rooms.
These rooms have a curtain separating the bathroom area instead of the doors found at other resorts. Most rooms at Riverside have two queen beds, though there are some King bed rooms.
The Royal Guest Rooms are located at Port Orleans Riverside and are (in my opinion) the best themed rooms in Walt Disney World.
You'll see lots of signs that Tiana and her princess friends have been there, plus there are lovely LED fireworks over the beds. These rooms cost an extra $80 per night compared to standard rooms.
Riverside boasts some solid dining choices that include:
River Roost Lounge with performances by the fan-favorite Yee Haw Bob
Riverside Mill Food Court (quick service dining)
Boatwright's Dining Hall (decent Southern-inspired table service restaurant)
The pool complex is decent though not great. There is a water slide, hot tub, kiddie pool, and a few leisure pools around the resort.
You can take a 25-minute carriage ride through both Port Orleans resorts that you can catch here at Riverside.
The carriages hold up to two adults and three kids (or four adults) and rides cost $55. They are a nice way to celebrate a special occasion.
There is boat service to Disney Springs which is a great way to get to lots of dining options.
Transportation to the park is via bus and there are four internal bus stops at the resort. This additional travel time to the parks is a downside to me, though it should only add an extra 10 minutes to your trip. But that 10 minutes each way adds up over the course of week!
I particularly like the grounds and flowers at this resort which are lovely year-round. It feels very established and secluded, which I like.
Last, Riverside is one of the more expensive Moderate resorts. It has been excluded from discounts (or offered reduced discounts) lately so it is hard to stay here for less than $200 per night in a standard room.
In summary, the pros and cons of Port Orleans Riverside are:
PROS
Some rooms sleep five
Boat to Disney Springs
Lovely grounds
Amazing Royal Guest Rooms
CONS
Bus service can take a while
Expensive compared to other moderates
The Cabins at Disney's Fort Wilderness Resort
And last we get to The Cabins at Fort Wilderness which Disney classifies as a Moderate resort.
The cabins or "wilderness homes" are quite different from the other Moderate resorts. I think it is their price tag that caused Disney to put them into the Moderate category.
The cabins are found in loops 2200 through 2800 at Disney's Fort Wilderness Resort & Campground. There are 363 cabins crammed into these loops, so as you can guess they are quite close together.
The cabins are about 500 square feet each. They all have a porch with a picnic table and a grill located next to the porch.
The appeal of the cabins is that they are the only non-DVC accommodations to offer a full kitchen. This can be great if you want to cook your own food.
There is a separate bedroom in the cabins with a queen bed and a set of bunk beds. As you can see the are VERY close together, so it doesn't do much for privacy.
There is also a pull-out couch in the living room with a full-size bed. Technically the cabins sleep up to six, though I think that would be a very tight fit.
There is once bathroom with a single sink and bathtub.
There are a few smaller swimming pools at Fort Wilderness (including one convenient to the cabins) and the feature pool at The Meadow with a hot tub, waterslide, and kid's water play area.
The main challenge at Fort Wilderness in transportation. First, you are only allowed to drive your car around when you are arriving or departing.
You must take an internal bus to get around the resort. These buses take you to the Outpost, where you can board other buses that take you to the theme parks.
The internal buses also drop off at The Meadow for the feature swimming pool, general store, and quick service location that service lunch and dinner.
The last bus stop is at The Settlement, where you'll find The Hoop De Due Review dinner show, Trail's End buffet, and the boat launch for Magic Kingdom.
The option of taking a boat to Magic Kingdom is definitely a plus of a stay at Fort Wilderness.
All of the activities available at Fort Wilderness is a definite plus to staying here. They include:
Bike rentals
Canoe & kayak rentals
Horseback trail rides
Pony rides for little ones
Archery lessons
Carriage & wagon rides
Chip n Dale's Campfire Sing-A-Long
Volleyball and basketball courts
You can also visit the Walt Disney World horse barn and small museum. There is so much to do at Fort Wilderness that you could easily stay there and pass on the theme parks.
Some people rent golf carts to get around the resort internally, but this adds to the already high cost of staying in a cabin. The rack rate for The Cabins at For Wilderness starts at a startling $356 per night (plus tax) and goes up from there.
While the cabins are regularly included in Disney discounts, it is very difficult to stay in a cabin for under $350 per night. This just doesn't make sense for me financially, especially considering the logistical challenges of a stay here.
To summarize, the pros and cons of The Cabins at Fort Wilderness are:
PROS
Full kitchen and separate bedroom
Sleep up to six people
Lots to do at the resort
CONS
Transportation is difficult and time-consuming
Very expensive for what you get
Cramped sleeping quarters
While I don't recommend a stay at The Cabins, I do personally love tent camping at Fort Wilderness. Get everything you need to know about camping at Disney World in this post.
Well that wraps up this very detailed post! I hope the Disney Moderate Resorts ranked helps you decide where to stay on your next vacation.
If you want help deciding where to stay on your Disney vacation as well as help with Fastpasses and dining reservations (all at no cost to you!) get a quote from my travel agent partner Siera with Destinations in Florida here. She can help you find the best resort at the best price for your trip.
Any questions about the Disney Moderate resorts? Just leave a comment below or join the discussion in The Budget Mouse free private Facebook group here.